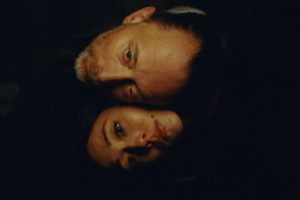 Anima arrives on Netflix after much fanfare, and the good news is that it merits the hype. The short film serves as a companion piece to Thom Yorke's new album of the same name, stars the Radiohead frontman himself, and sets new songs "Not the News," "Traffic," and "Dawn Chorus" to picture.
Animais essentially a long music video, the kind you'd normally expect to debut on, say, YouTube or Vevo. But it's on Netflix, and despite being accessible via phone, still best watched on as big a screen as possible, with the sound cranked up high.
Shot by Darius Khondji, and choreographed by Damien Gilet, Animatreads the line between sleeping and waking as Yorke travels from a subway line, to a grey, tilting dreamscape, to deserted streets and a departing tram as the sun begins to rise.
The combined efforts of the artists involved make even the most mundane settings feel somehow supernatural. As Yorke and a troupe of dancers ride the subway and make their way through the underground station, there's a sense of somnambulism to the somber colors and coordinated movement. There's almost no seam when Yorke passes into a mysterious, Interstellar-like space and begins to lose his balance as the ground changes angle underneath him.
Through it all, Yorke pursues a mysterious woman (played by Dajana Roncione, his real-life partner), which perhaps gives away the short's gradual transition to romance. Yorke's struggles to simply navigate the environment around him give way to fluid, graceful motion, instead of the more abrupt style of dance that had come before. The final song, "Dawn Chorus," feels like melting in comparison to the eerier "Not the News" and "Traffic," and the colors become warmer in turn.
The new songs are all wonderful, but the most notable part of Animais Yorke's performance. His melancholy features are a perfect canvas upon which to project the dreamy music he writes, and his physical performance is no less impressive. He seems to channel silent star Buster Keaton in the way he freely throws himself around the frame, conveying manic energy in one frame and utter exhaustion in the next, simply from the way he holds himself. The feeling that remains as Yorke falls asleep at the end of the film is of peace, earned after earnest struggling to make sense of the world.
Anima is streaming on Netflix now.
– written by Karen Han for Polygon.com