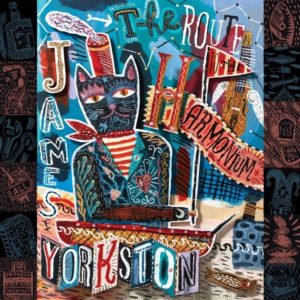 Well, we didn't find the first twenty minutes. So I tell what you miss – it all started with Julia Kent's new solo cello work "Temporal", followed by a free improvised piece called "Perpetum" from Mats Eilertsen's album "An Then Comes The Night". Then Joe Lovano's TRIO TAPESTRY, is taking center stage, who might have painted his masterpiece here, and I'm saying something like this:
"Oh, look at the cover of this ECM production, and you're easily tricked with a shining portrait Blue Note-stlye. Lovano  with glasses, hat and saxophone standing at the East River, the Brooklyn Bridge, the chilling skyline, you'll think about old school ballads and standards, no way, all Lovano originals, crisp, sharp, intense, even the silence between two notes no old hat at all – chapeau!"
Lovano plays "Mystic", with the ghostly exhoes of drummer Carmen Castaldi, following some uninhibited praise on Rustin Man's "Drift Code", and there he comes, Paul Webb talking about the building of his studio in the middle of nowhere – at the  end you can hear, dear listener, for a short a moment, an aereoplane in the sky, we're somewhere in Essex, not so very far away from Stanstead Airport.
(Another twist and turn just happened, with the sudden appearance of the infamous "radiohoerer" sending us the complete files of the first hour, and before midnight, we will reveal its shining glory in toto, but without cancelling my introductory words. They may be fun for American and English listeners.)
FIRST HOUR – Julia Kent TEMPORAL / Mats Eilertsen AND THEN COMES THE NIGHT / Joe Lovano TRIO TAPESTRY / Rustin Man DRIFT CODE / Yonathan Avishai JOYS AND SOLITUDES / Eleni Karaindrou TOUS LES OISEAUX / Rustin Man DRIFT CODE / Josephine Forster FAITHFUL FAIRY HARMONY / Larry Grenadier THE GLEANERS / – (incl. two excerpts from my interview with Paul Webb)
SECOND HOUR – STERNZEIT – Dominic Miller ABSINTHE / Robert Forster INFERNO / Aaron Parks LITTLE BIG / Stale Storlokken THE HAZE OF SLEEPLESSNESS / Lau MIDNIGHT AND CLOSEDOWN / James Yorkston THE ROUTE TO THE HARMONIUM (two songs) / Lau MIDNIGHT AND CLOSEDOWN / Oyvind Torvund THE EXOTICA ALBUM – (incl. two excerpts from my interview with James Yorkston)
THIRD HOUR – "Close Up" – The Thrills of "Library Music" ("If you're a fan of period instrumentals, peculiar jazz curios, soundtrack oddities or anything that works as "background music" but isn't nearly as dull as that description implies, Unusual Sounds is an absolute goldmine. The Anthology Recordings team has assembled a gorgeous collection of, well, unusual sounds that belong in any adventurous music lover's collection.")
FOURTH HOUR – time travel (1) – Michael Rother's SOLO box set
FIFTH HOUR – time travel (2) – Prefab Sprout's I TRAWL THE MEGAHERTZ & Dictaphone's DENOVALI BOX SET
Saying thanks: This radio night wouldn't have been the night I had wished for without the support of Jan Reetze who filled some holes I had in my mind about the life of Michael Rother after 1982, without the passionate working with the devil in the details by Joey Siemer, or without the support of the really smart Lukas Lassonczyk of Domino Records preparing my phone interviews with some far away places in England / Scotland, you know, that country who is again dreaming about splendid isolation and old times of glory with their fucked-up Brexit politics.  Not to forget the constant support of  Christian Stolberg (ECM) who even selflessly sent me the only record I didn't like from Mr. Garbarek in the 70's, this erratic duo with an organ player in a Norwegian church, "Aftenland", still a mystery to me, after giving it a second chance, what may be the thrill of it. And of course, thank you, Gregs, for preparing the phoners for audio cd and setting up some traps I immediately stepped in – just joking, it was not your fault, that Mr. Yorkston suddenly stopped speaking after his postman rang on the door. And, be aware, this was a five hour long live night show, so please enjoy my errors and mistakes, and speaking a bit too much on alcoholic drinks – blame it on Dominic Miller's  "Absinthe-fuelled" fantasies on impressionism, Les Baxter's  mild drinking habits while composing "Taboo" and dreaming about wild beauties of the South Seas, and Rob Young's funny liner notes on "The Exotica Album"!  This list would be uncomplete without mentioning the irreplaceable  Ed Benndorf who sent me, days before the show, and out of nowhere, two brand new HUBRO albums that became the icing on the cake of the second hour, and without his intuitive sense for my more whimsical appetites for obscurities, I would probably  never have ended up getting lost in the shadowy world of library music.