Die Aktion gab es schon bei ECM "Touchstones", Alben aus dem Katalog in einem Pappschuber mit Originalcover zu kleinem Preis auf den Markt zu bringen, und heute werden wieder mal 25 veröffentlicht, darunter auch, lang nicht erhältlich, das erste fantastische Album von Steve Tibbetts, das einzige, das Manfred Eicher produziert hat, Northern Song. Es stammt aus den frühen Achtzigern, also, aus der Zeit, als Jean Jacques Beineixs Diva Kinogeschichte zu schreiben begann, zumindest ungefähr. Wie Beineix in einem viel zu kurzen Interview erzählt (ich habe den Film gestern als Bluray zum xten Mal wiedergesehen, gerate stets in seinen Sog), war dies nun gar kein autobiographischer Film, umso mehr machte es ihm Freude, Teile von sich im Film lebendig werden zu lassen. Ich vermute mal, als der Gangster sagte: "Je ne t´aime Beethoven", wies das indirekt auf seine Präferenzen. Und als die junge Rollschuhfahrerin in einem Plattenladen an den Regalen entlang stöbert, kann man die Entdeckung machen, dass dort Schallplatten aus diversen Jahren "ausgestellt" sind, und ich nehme fast an, Beineix hat eigene Scheiben von zuhause mitgebracht und damit diskret die Kulisse ausstaffiert. Und welche Platte zieht sie am Ende aus dem Regal, und lässt es heimlich in ihrer Mappe verschwinden? Nun, Crystal Silence von Chick Corea und Gary Burton, einen Klassiker von ECM aus den frühen Jahren.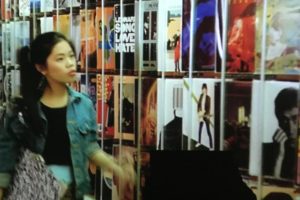 Ich kam überhaupt erst wieder auf den Film, nachdem mir Paul Webb (Rustin Man) das jüngste Album von Jaqueline Foster empfohlen hat, und ich ihm schrieb, in dieser Kontext einer archaischen Folklore würde mir das, zumindest zeitweilig, Opernhafte ihrer Stimme total gut gefallen, was mir ähnlich ging (ich werde nie freiwillig in eine Oper gehen), als ich einst Diva im Kino sah. Darauf antwortete er:
Diva was such an underrated film. It was seen in the movie world like Grace Jones was seen in the music world. "Style over content", but both I feel were misjudged. The attention to detail in Diva is stunning, even the way the opera singers hair is styled to reflect the different sides of her  personality is so well thought out. The soundtrack is also quite beautiful. I especially like that Eric Satie type piano with its 80's delay echo, all this revolving around the tale of two tapes. One of my favourite films for sure.